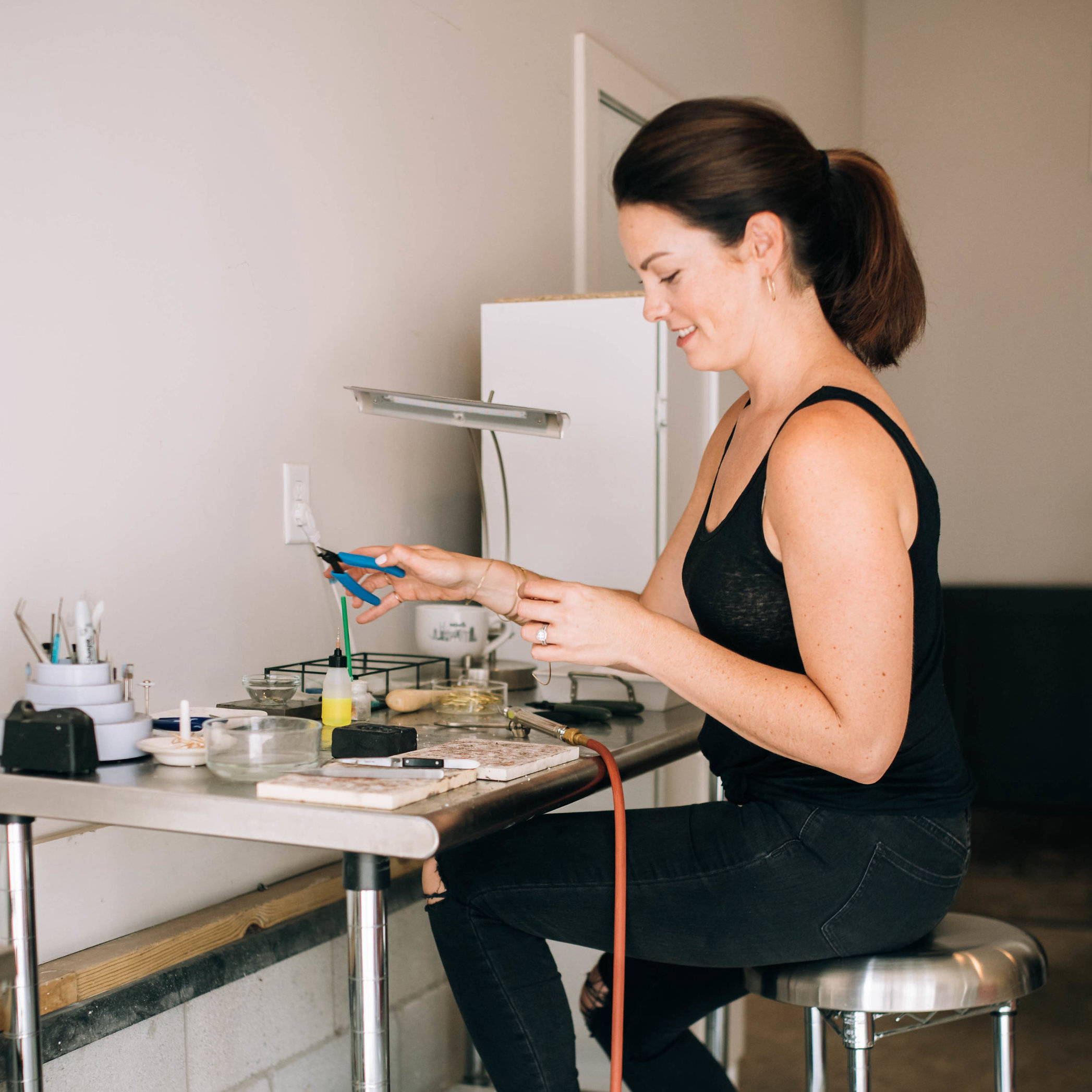 Starting this business didn't feel like a big leap or chasing a huge dream. I began with a family tradition, a desire to create, and a need I could fill for my customers (back then just my family members and a couple of friends). I started with one gold wire at a time, some gifted equipment, and a studio in a 4' by 6' concrete room off of my garage. Every bangle I successfully made was made by hand, with one customer in mind. I felt a sense of purpose creating bangles for the women I knew well and their marriages and stories. It certainly didn't happen overnight, but week by week and month by month, new customers would find me. I hired an intern (who has since worked in almost every role and become our director or marketing) and I hired jewelers when I couldn't do it all myself. Today we have a team of 15, a physical store, and a headquarters with offices and a studio in Nashville. We make hundreds of bangles a month and reach an incredible array of women who love our jewelry and celebrate their stories with stacks of bangles. It feels like a dream come true, but to be honest, this is so much bigger than anything I'd imagined when I first sat down at my bench.
It hasn't always been easy but the passion to create beautiful, quality, solid 14k gold jewelry for women has kept me motivated to build Yearly Co. to what it is today.
I thought I'd celebrate 6 years with 6 lessons I've learned along the way:
1. Go with your gut (and ask for feedback).
Sometimes in the world of business it's easy to look around at everyone else (especially competitors or peers) to make sure you're doing things just like they are. Or you may regularly receive well meaning feedback about how you can change or do better. But that leads to a lot of the same. I've often had to throw something out there and ask what our customers think, and 9 times out of 10 my gut is telling me what to do. It's okay to do things your own way if it works for you because that's what makes your business unique and makes you stand out. Your customers are your best resource to know what direction to go and they love to help!
2. Hire people who know more than you.
We would all love to be experts in everything but we aren't. I've outsourced (when it's within budget) and hired people who can fully focus on their role and skills and watched the business grow because I was able to let go of control in those aspects. Trying to do it all when you aren't good at it all is a recipe for burnout and hinders growth. Hiring talented jewelers, for example, gave me the freedom to lean into our marketing, fulfillment, customer service, design, and finding an incredible team. I also believe that the right people don't have to have all the skills and knowledge right away, they just need the resourcefulness and drive to be able to figure it out.
3. Every challenge presents an opportunity.
This hit me hard when less than two years into starting my business we had to change our name due to a copyright issue. What was once 'Evermore Co.' became 'Yearly Co.' (which I love more than the original!). Instead of dwelling on the negative I pivoted and made the change and found new opportunity to improve.
When roles need to shift, a customer is unhappy or something isn't working well on our team, I try to temper the situation with the question: what's the opportunity here? Often there's a chance for something better around the corner when we turn challenges into insights.
*credit on this lesson goes largely to my business coach, Zach! (I recorded a podcast episode with him here).
4. People don't just buy things, they connect with products that capture a feeling.
Again and again and again I remind myself of this. We sell products that someone else can technically make and sell. But the reason our customers come back to Yearly Co. is because I have created a business that earns your trust, has a deep and meaningful story, and helps you to celebrate those you love. We will never sell jewelry just to sell shiny things. We create products to give you a reason to smile, to celebrate, to commemorate your moments and milestones. The stories behind why you buy and wear your Yearly pieces are what drives us to create and grow.
5. Say 'no' to focus and grow.
I credit this wise advice to my first call with Minna and Jacqueline of The Product Boss.
If you're saying yes to everything, you can't find that niche that you do so well that you become known for it. We only create jewelry that can be worn 24/7 in solid 14k. We specialize in custom fit gold bangles and I'll never create or wear jewelry that doesn't feel heirloom-worthy and solid enough for everyday. We don't take on work or create pieces that we can't stand behind. That has allowed us to refer customers to other makers, stay focused on what we are great at, and not to overwhelm our team with making things outside of our zone.
6. Community is EVERYTHING.
It's not who you know, it's how you treat people. My parents have been amazing examples of this lesson my entire life. And my sister Mary was my first and biggest business supporter (you've seen her over at fivemarysfarms). She set the example for me of how easy it is to support other women, business owners, and even businesses selling products in the same industry. There's room for all of us. When you pull another woman up and support her business it creates a ripple effect of positivity.
I'm so grateful for the amazing online community I've found, for the incredible group of small business owners in Nashville, and for our community of customers. In six years I can truly say that I've made some amazing friends and enjoyed cheering them on as we have grown our businesses side by side.
Thank you so much for your continuous support and cheers to the next 6 years!
-Ann