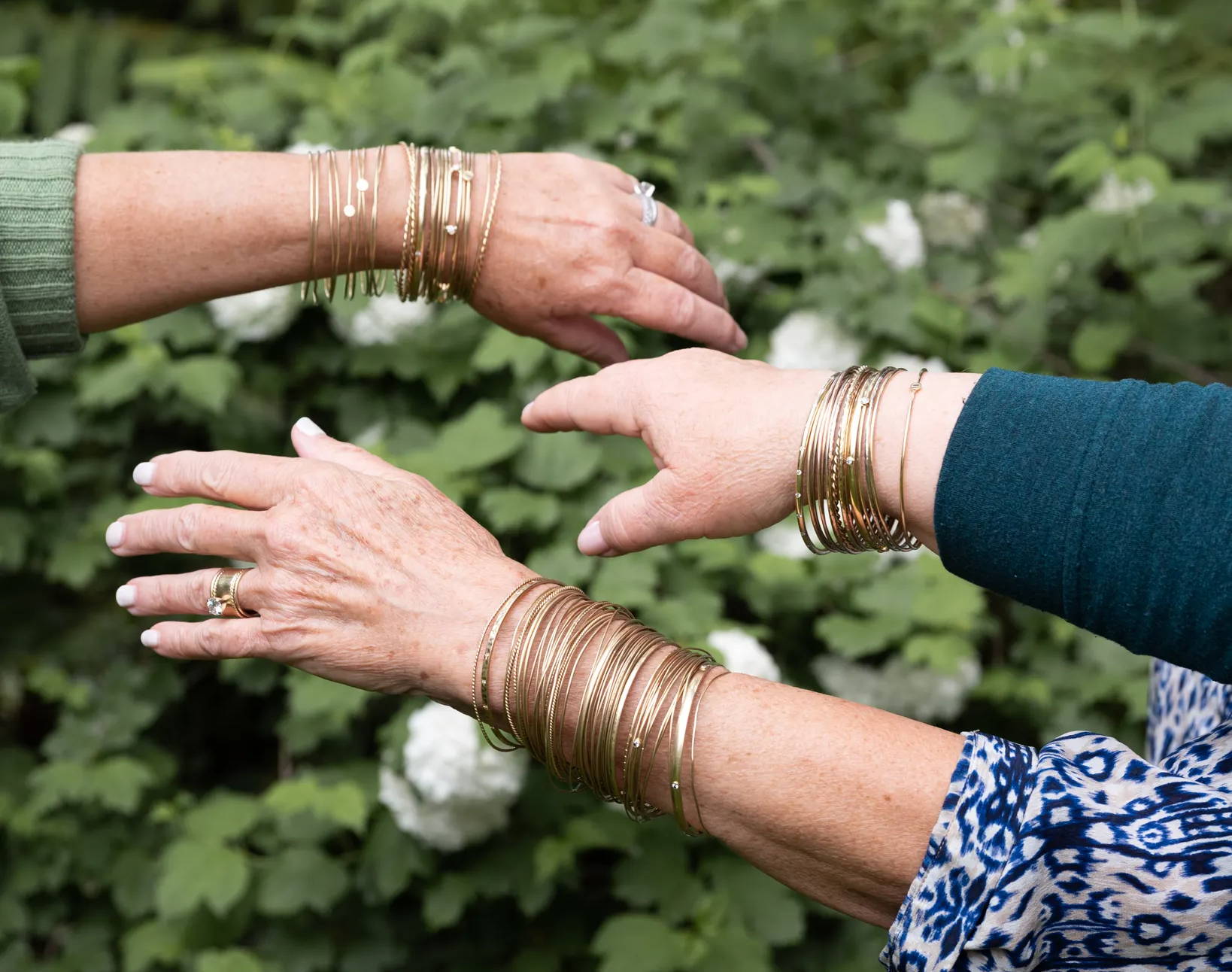 When you're wanting to purchase a special piece of jewelry, your criteria probably looks a lot like ours; beautiful and timeless, with durability and versatility to carry you through all of life's occasions. The best way to achieve all those things is by opting for 14k gold, which is why we believe it's the perfect choice for our jewelry.


Jewelry with durability and resilience is essential for our busy customers with active lifestyles who want everyday pieces they never have to take off. Technically speaking, 14k gold is a combination of 14/24 parts pure gold and 10/24 parts other metals (like copper, zinc and silver), making it much more durable than pure gold alone. You can wear your beautiful pieces with confidence that they will still look just as beautiful, year after year. With our lifetime guarantee you can also be sure that your pieces will be protected if they should ever be damaged or broken. We will repair or tune up your Yearly Co. pieces for a lifetime. Cleaning your jewelry is as easy as using gentle hand soap to remove any build up. All our stones set are securely set in 14k gold and meant to be worn daily without worry.


Classic 14k gold will withstand the test of time. Gold has been around for centuries and remains one of the most popular materials for jewelry. 14k gold can be transformed into any style or design, from modern to vintage. And as an added bonus, 14k gold doesn't oxidize (meaning it won't tarnish over time), making it easy to keep your jewelry looking stunning regardless of how long ago you purchased it. Simple gold jewelry will never go out of style.


Since 14k gold contains only 14/24 parts pure gold, you'll find price points more reasonable than higher karat jewelry. The rich gold color is still very eye-catching and bright in 14k. At Yearly we also believe your pieces should be solid 14k gold and never hollow. Our bangles and rings are made of solid pieces of metal to ensure that your jewelry is both valuable and substantial.
Overall, 14k gold provides the ideal balance of beauty, strength, longevity, and value. For timeless pieces that are as durable as they are beautiful, our jewelry is the perfect match. When shopping at Yearly Co., you can buy with confidence knowing our designs are made with love using only the best materials available, so your favorite pieces will remain beautiful for years to come and can be handed down for generations.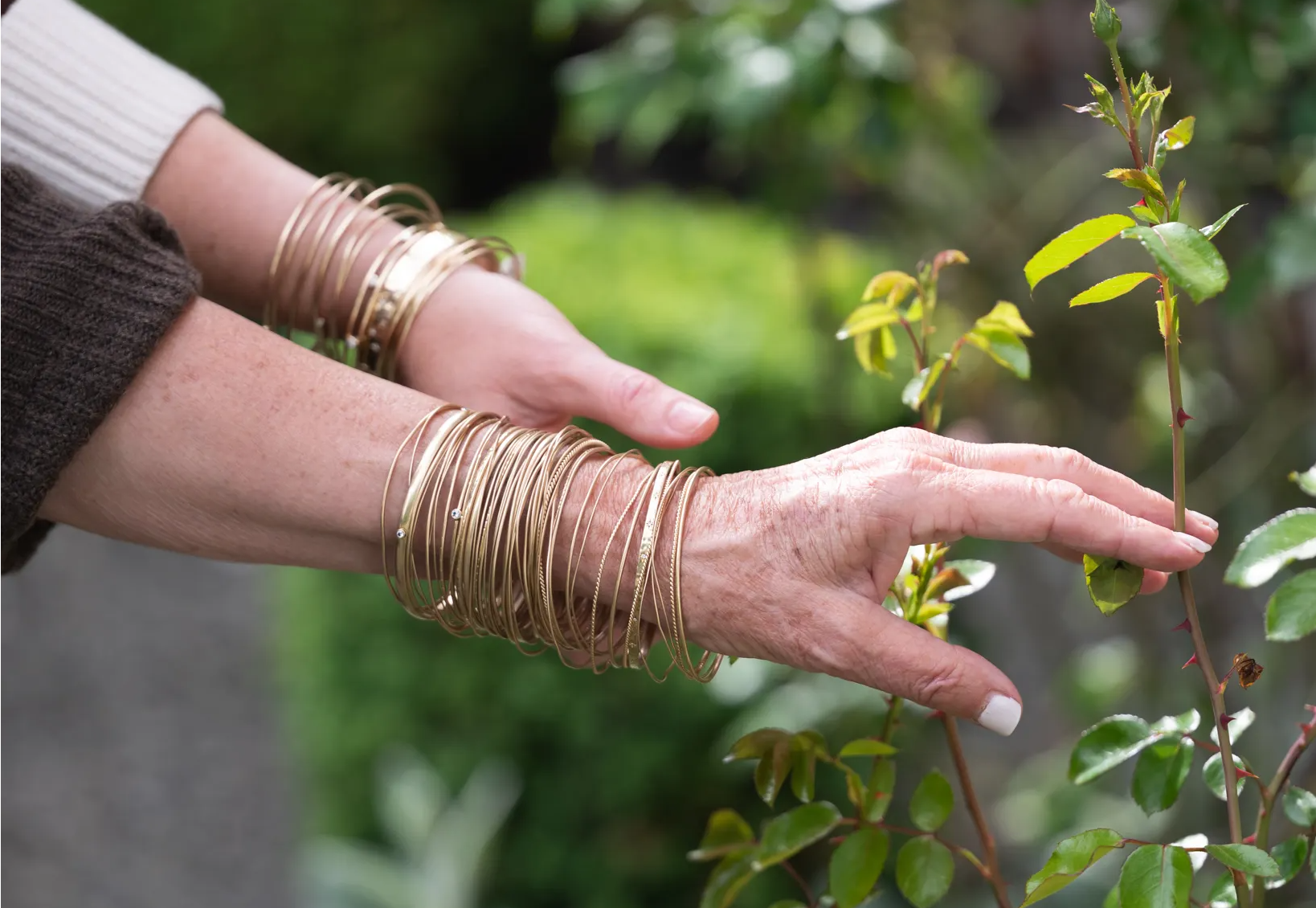 FAQs About Wearing 14k Gold

Rhodium Plating
Our 14k white gold pieces that are created in-studio are not rhodium plated. Some of our items sourced outside our studio are rhodium plated, like our earring collections.
Rhodium plating adds a brighter "silver" color to white gold but will wear off over time and require re-plating. Rhodium plating can be completed on any white gold Yearly Co. piece for a fee; please reach out to hello@yearlyco.com for a quote.



Turning your skin black
Occasionally, based on body chemistry or products used, wearing solid 14k gold can lead to a black smudge on your skin. Do not be alarmed that there is anything wrong with you or your jewelry. Often around pregnancy and postpartum or other hormonal changes, this can be more common for some women. Certain products like body scrubs or lotions can also cause a reaction creating a black dust to form on your wrist or ears. Simply wash your skin and jewelry with a gentle soap and avoid skin products in that area for some time.