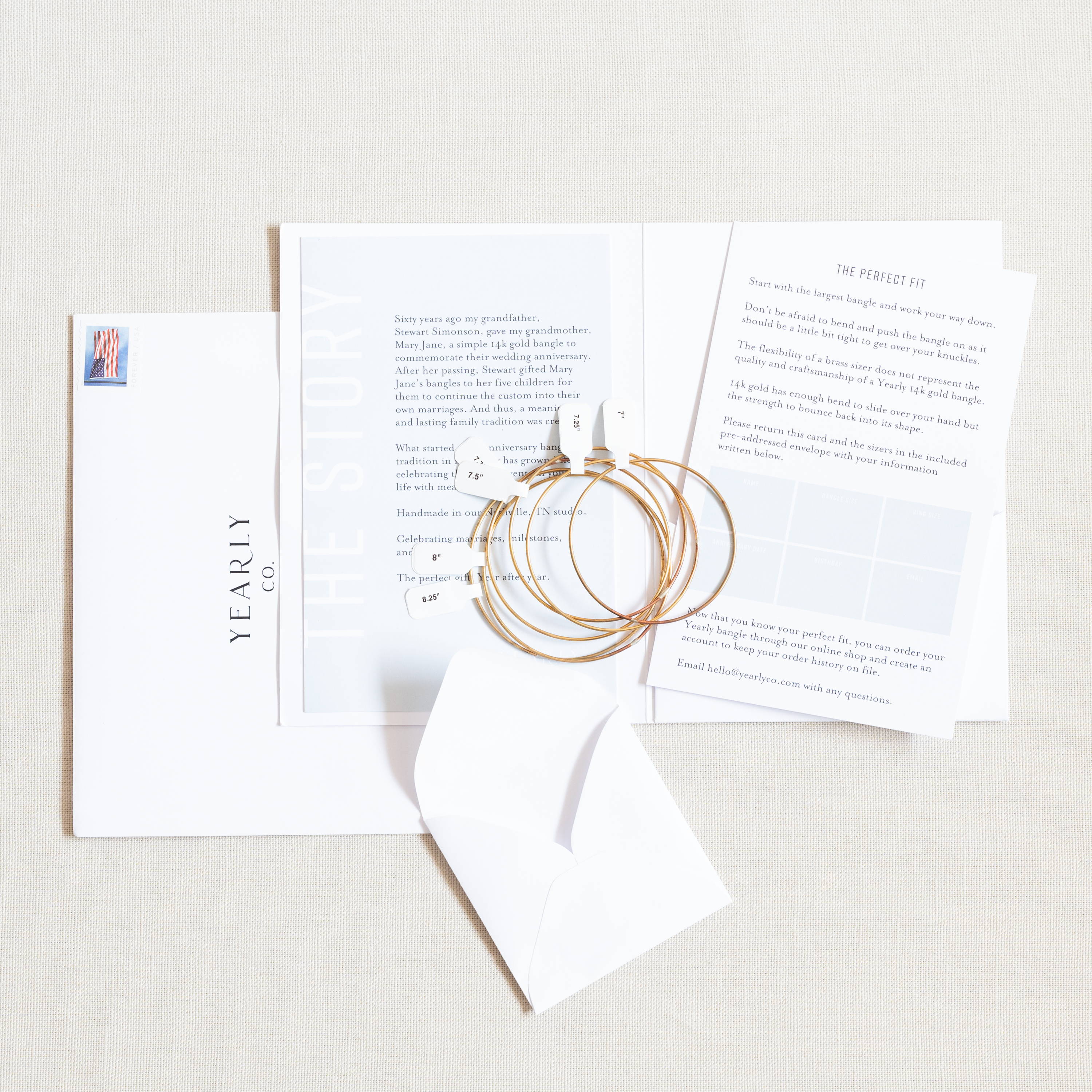 Finding your fit is a very important step in your Yearly Co. journey and we have made it easy with our sizing kit. As you open your sizing kit and test each bangle size on your wrist, we understand you might have a few questions. Checkout the FAQs below to help guide you in your bangle decision making process.
Q: How do I properly find my fit?  
A: When you receive your kit, start by trying on the largest sizer and work your way down. The correct fit will be tight on your knuckles but rest comfortably on your wrist.
Q: If I am between two sizes, which should I choose?
A. We almost always suggest choosing the smaller of the two sizes. However, we understand that some people like to remove jewelry or wear it only on occasion. Because of this, we encourage clients to consider how frequently they will be wearing their pieces when determining their size. If your bangles will be worn all day every day, we recommend a fit that requires some force to get over the knuckles and sits comfortably on the wrist without the risk of sliding off. If you'll be removing your bangles daily, we suggest a fit that is a bit looser over the knuckles allowing for an easier removal process.
Q: Can you make a custom fit in between sizes?
A: We don't offer sizes in between the range of 1/4" increments. This is to make sure that your bangle orders are consistent and we can keep your sizing accurate.
Q: Can I really wear the bangles 24/7?
A: YES!!! Each Yearly Co. bangle is made of solid 14k gold and can be worn 24/7 in all activities and environments (including sleeping, swimming and exercising).
Q: Which bangle style do you think will be best for me? 
A: It will depend on your day-to-day activities and your preference on bangle "wear". The Yearly Co. original stacking bangle is made of solid 14k gold wire and can develop some natural bends and curves. As you go up in thickness in our bangle styles, they become more rigid and will not bend at all. The sizer bangles are made from brass and therefore will bend much easier than our 14k gold bangles. Checkout our bangle wear and care chart for more of a "durability" breakdown.
Q: I think I need a size smaller/larger than what is included in your standard set, is that possible?
A: Yes! Send an email to hello@yearlyco.com requesting the additional sizing set. We want your bangles to fit perfectly!
Q: Why do I need to send the sizers back?
A: We want you to try on and test out sizers for as long as you need to determine the best fit. We appreciate you returning the brass set as soon as possible so that we can recycle those bangles for the next customer to find their fit.
Q: Do I need to send back my kit before I can order?
A: No! Once you have decided on your fit, you may order anytime. We love getting the kits back so we can enter your info and re-use the sizers, but we encourage you to create an account on our site to enter your bangle size and important dates.
Q: Can other people use my sizers?
A: Absolutely! If you have friends or family members who are curious about Yearly Co. sizing please feel free to let them try on and determine their fit as well. They can create an account and store their fit info on our site for future orders or contact us with any questions.
Still unsure of your perfect size or where to start?
Shoot us an email or DM! We are always happy to answer fit questions, check a photo or video for your sizing, and to suggest the perfect styles to start your stack.