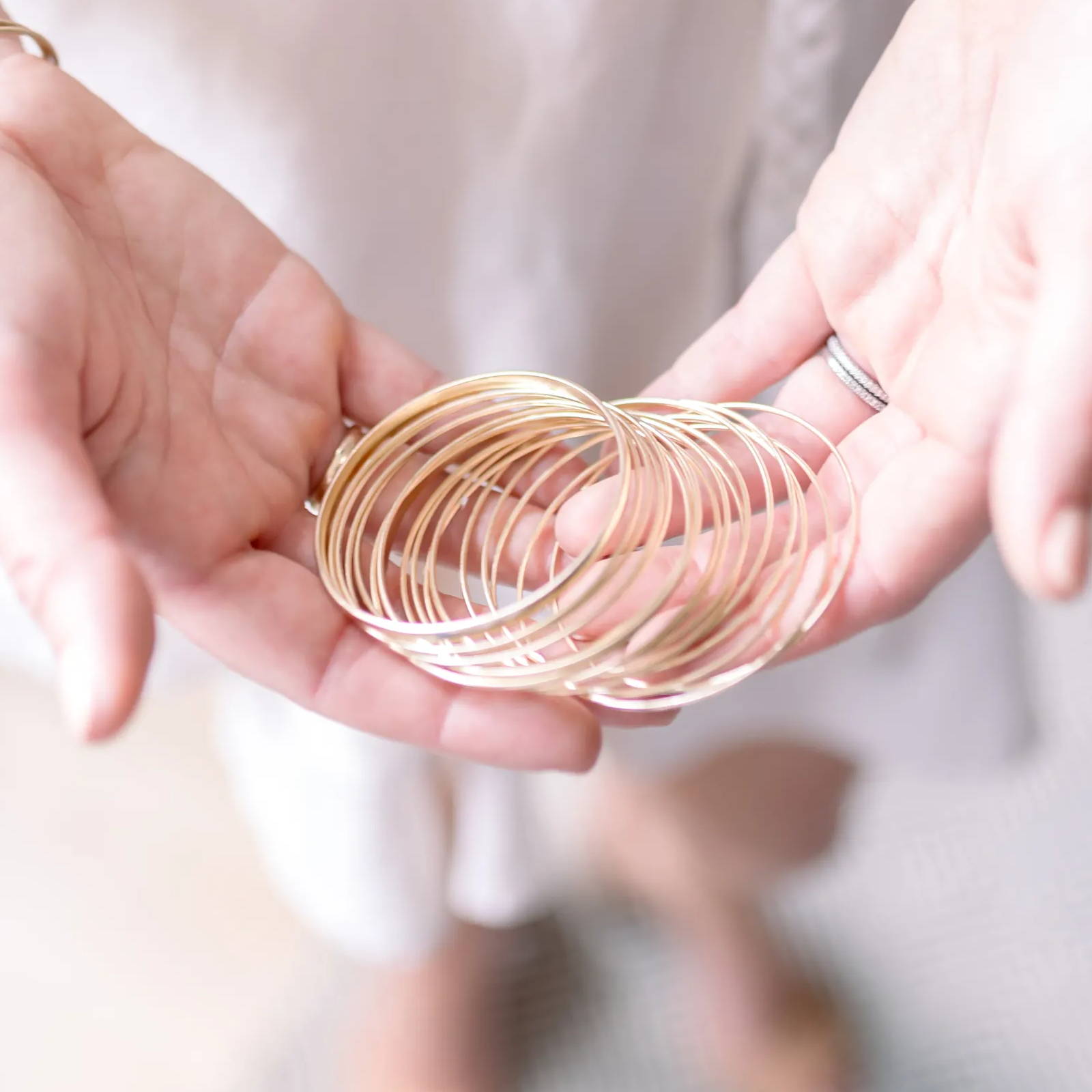 The Diamond Baguette Huggies:These solid 14k yellow, white, and rose gold diamond hoops are the perfect daily earring you never have to take out. The huggies are set with four straight baguette diamonds, giving them a touch of sparkle. They click closed and sit perfectly around your earlobe. Sold by the pair these earrings are 8.3x6.3 mm and the stone is .1 CT TDW.
The Twist: BEST SELLER. A bangle made from two 14k gold wires twisted together. A beautiful addition to a bangle stack to represent a special year or event and frequently used to symbolize the joining of two within a marriage. Available in both a classic and a heavy weight. The classic is 1.6mm and the heavy weight 2.6mm wide.  
The Sweetheart: The perfect gift for your sweetheart. The classic Yearly Co. stacking bangle customized with a delicate and meaningful heart. Available in yellow, white and rose gold in the classic and heavy weight.
The Beaded Bangle: This scalloped design is 3.5mm across and mixes perfectly with other bangle styles. An ideal piece to celebrate a milestone in your life and to add some texture to your stack.
Weezie Women's Long White Robe: The oust LUXURIOUS white robe. Consider your terry robe upgraded: luxe piping, sleeves that can be buttoned shorter (so they don't get soaked), a slim collar for mess-free face masking, pockets and an attached tie that won't get lost in the wash. Offered in soft white terry with colored piping.
A Bouquet from Farmgirl Flowers: Not only are their florals absolutely stunning, Farmgirl flowers is bettering the world with each arrangement! Think farm to table but instead of food it's flowers. Their overall goal is to completely change the way flowers are purchased in the US, by providing a better alternative to the big guys. They strive to provide beautiful, designed flowers at a reasonable price, allowing them to support amazing farmers and small businesses while minimizing our waste and environmental impact -- all while saving you time through a simple ordering process. Shop all their gorgeous arrangements HERE!
Estelle Colored Champagne Coupe - Set of 2 Rose: A set of dun and flirty champagne glasses. Hand-blown colored glass made by glass artisans in Poland

- Dimensions: 7.5 inches tall x 4.4 inches wide

- Capacity: 8.25 ounces
Lights Out! Sensual Gift Box: Sensual Candle Co. was born from a simple bath ritual to rinse away anxiety. This gift box was curated in collaboration with custom gifting company Camden and Blue. This gift box features products from black owned and women owned brands. This gift box will set the mood and turn your bathroom into a spa. Shop the box HERE!
Items included:
8oz Sensual candle of your choice
Wooden Wick Trimmer
Herb'N Eden Full Size Tea Tree and Turmeric Soap
Slow North Herbal Facial Steam (enough for 8 plus facial steams)
Civil Stoneware Hand-Made Match Holder with striker
Custom White Matches