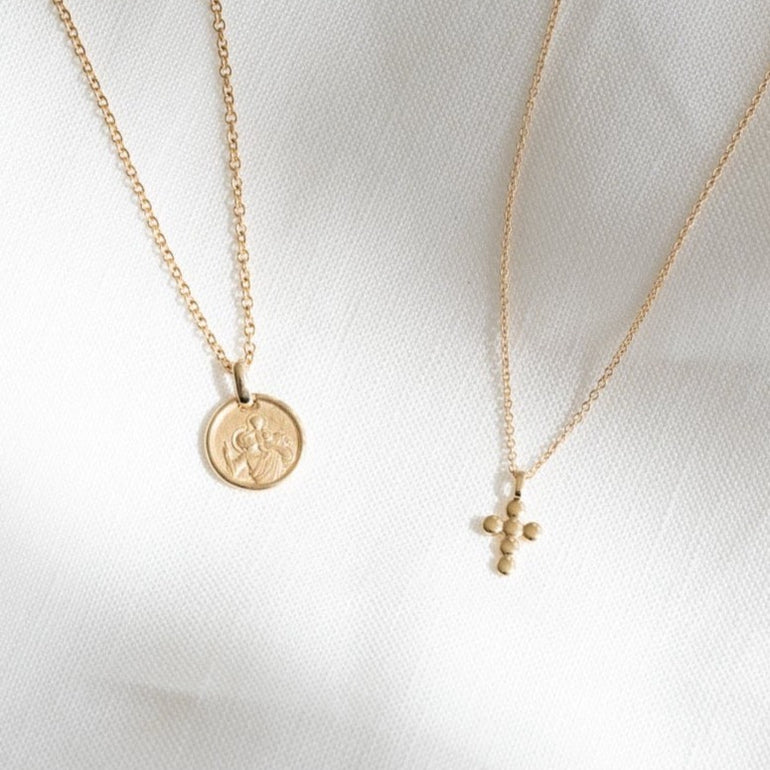 The Mini Beaded Cross Necklace
Order by December 15th for holiday delivery.
Estimated Arrival Date: December 11 - December 13
---
A delicate everyday piece that makes the perfect gift for a confirmation, first communion, graduation, birthday, or any celebration. A simple reminder of faith in solid 14k gold. Only sold on a 16-18" adjustable 14k gold cable chain.
---
Free shipping on all US orders
The Mini Beaded Cross Necklace
Wear & Care
Yearly Co. jewelry is made of solid 14k gold and natural diamonds and gemstones. Our pieces have a lifetime repair policy and can be worn 24/7 including in the shower, pool, and ocean.
Check out more on our Wear & Care blog!
Beautiful Sweet Perfect Special Gift
My Granddaughter loved the Mini Beaded Cross necklace we chose for her Confirmation Day & #16 BDay❣️Thank You for the extra special time spent in working with me getting it located and processed!
Love the Cross Necklace
I had been eyeing this little necklace for a while but as soon as I heard a portion of sales would support Covenant families I made the purchase. I have worn it everyday since I got it and I love it! It's so simple and sweet yet makes a statement.
Perfect!
I love this necklace, it's beautifully made as are all my Yearly pieces, and the perfect representation of my faith. I would love to see more faith based pieces! A diamond cross would be amazing!
Graduation present for granddaughter
Haven't given it to get yet but I'm sure she will b pleased with it