The Wear and Care Guide
All Yearly Co. bangles are hand-crafted of solid 14k gold. We take pride in our in-house process and attention to detail. We create each piece in your size and add customizations with the intent that you can wear your bangles all day, everyday and never have to worry about damage to your jewelry.
Every bangle style can be worn 24/7 by any woman, but depending on your day-to-day activities, different bangles will show different levels of "wear".
In very rare cases, if a bangle breaks, please contact hello@yearlyco.com for information about our free lifetime repairs.
Prior to purchasing your first bangle we strongly encourage clients to take a look at the chart below to help determine which bangle style would be best for you.
The chart below highlights the range of durability in terms of the "thickness" of our pieces. The assigned numbers from 1-4 correspond to thickness and strength.
1 = Our daintiest bangle style, made of solid 14k gold wire. Can develop natural bends with wear but is strong enough to be worn 24/7.
2 = Thicker solid 14k gold wire, much less likely to develop bends with wear and ideal for customers who prefer a perfect round shape in a lightweight bangle style.
3 = Wire that will not bend with wear and ideal for marking very special occasions and events.
4 = Our heaviest pieces created from wire with no bend. A statement alone or layered with thinner stacks.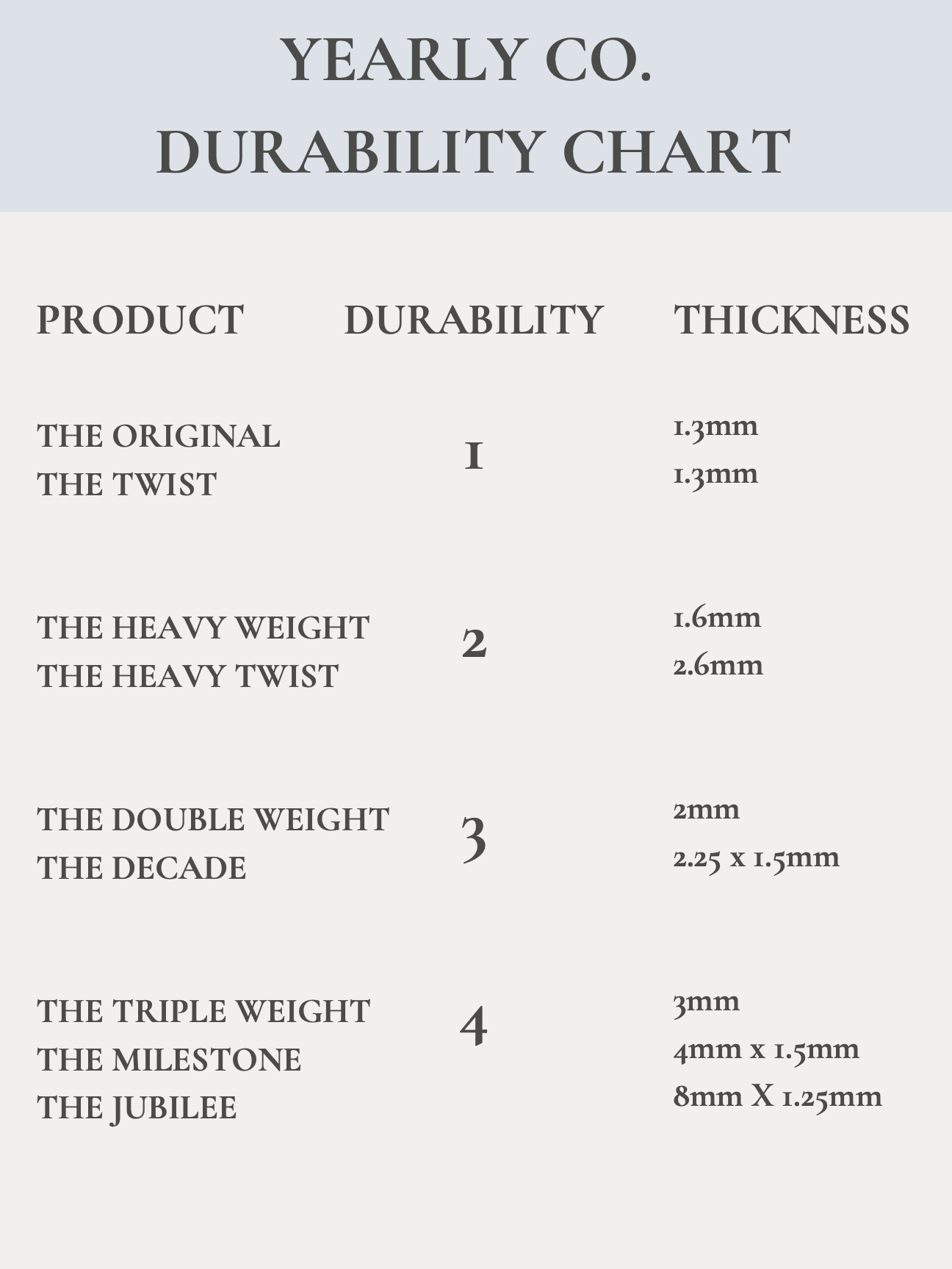 All Yearly Co. pieces can be worn in the shower, in a pool, and even in the ocean.
To clean your bangles run them under warm water and scrub lightly using a soft bristled brush and dish soap. If your bangles become dirty or cloudy, wipe clean with the included polishing cloth from your order. All Yearly Co. polishing clothes are treated with a compound that will add shine to your bangle. When the compound is used up, the cloth will become black and should be discarded.