Yearly Co. Bangle Breakdown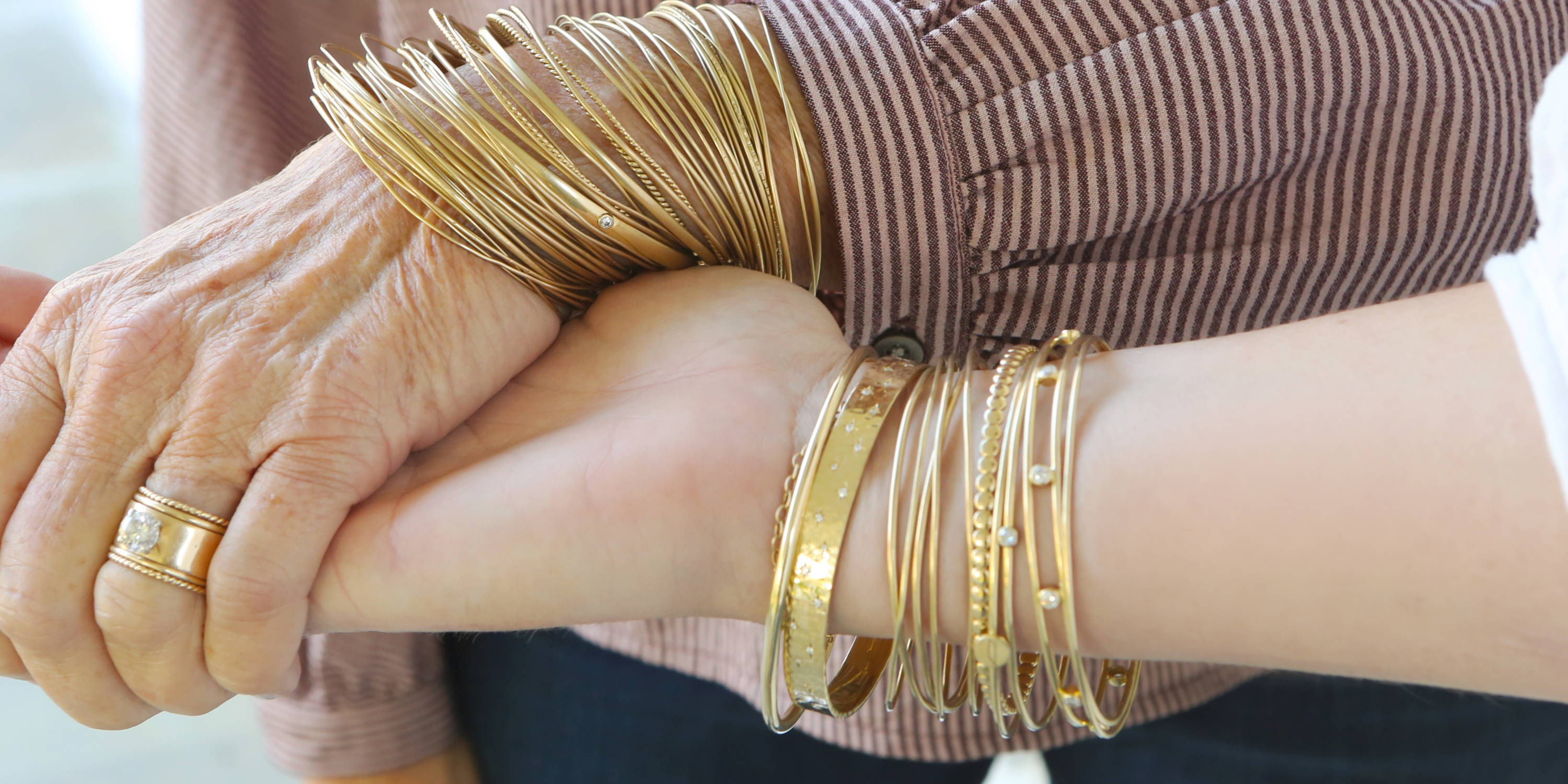 The Yearly Co. anniversary tradition began in my family with the most simple and dainty 14k gold round wire bangle. This classic style will always be known as our Original stacking bangle.
Our collection and customers have grown to include new reasons to celebrate and new styles to mark those occasions.
Every bangle we make at Yearly Co. is made of solid 14k gold and is custom fit to your wrist. We are the only jewelry brand who offers bangles in over 6 sizes so that your fit is perfect, every time. The 14k gold we use is recycled metal that is sustainably sourced and each piece is made to last a lifetime.
Read on for a detailed look at our collection of bangles and what makes each style unique.
The Round Wire Collection
The first round wire bangle is The Original Bangle, a dainty gold bangle at 1.3mm.
We love this piece for its simplicity, classic look, and ability to stack year after year.
This bangle is perfect to start with, especially when purchased in our Catch Up Pack (which offers a year-round discount).
The Original Bangle is our lightest and also most flexible bangle, which means it can develop natural bends with wear. Not into that organic look? We suggest choosing the next round wire bangle up:
At 1.6mm thick, The Heavy Weight gives a very similar look to our classic bangle but offers a more sturdy feel. To the naked eye you won't be able to tell the difference between The Original and The Heavy Weight on your wrist, but give it a gentle squeeze and you'll feel this solid bangle resists more than The Original. This bangle is just as classic and easy to wear, but with more gold and less bend, it's the bangle we choose for many of our accented styles (more on that in our textured/stamped and stone collections!).
Take our classic bangle and double it and that will give you The Double Weight bangle. This round wire bangle has a hefty feel to it and zero bend. It's a step up in width but like all of our bangles, is still solid 14k gold all the way through. Customers love to add hammering to this style (more on that in our textured collection below!).
Our final round wire bangle is the Triple Weight. At 3mm thick this is a statement maker. A solid round wire bangle that can be worn alone but stacks perfectly with any other Yearly Co. piece. Customers often remark just how substantial and beautiful this piece is in person, as it's hard to get the full feel of this bangle from a photo.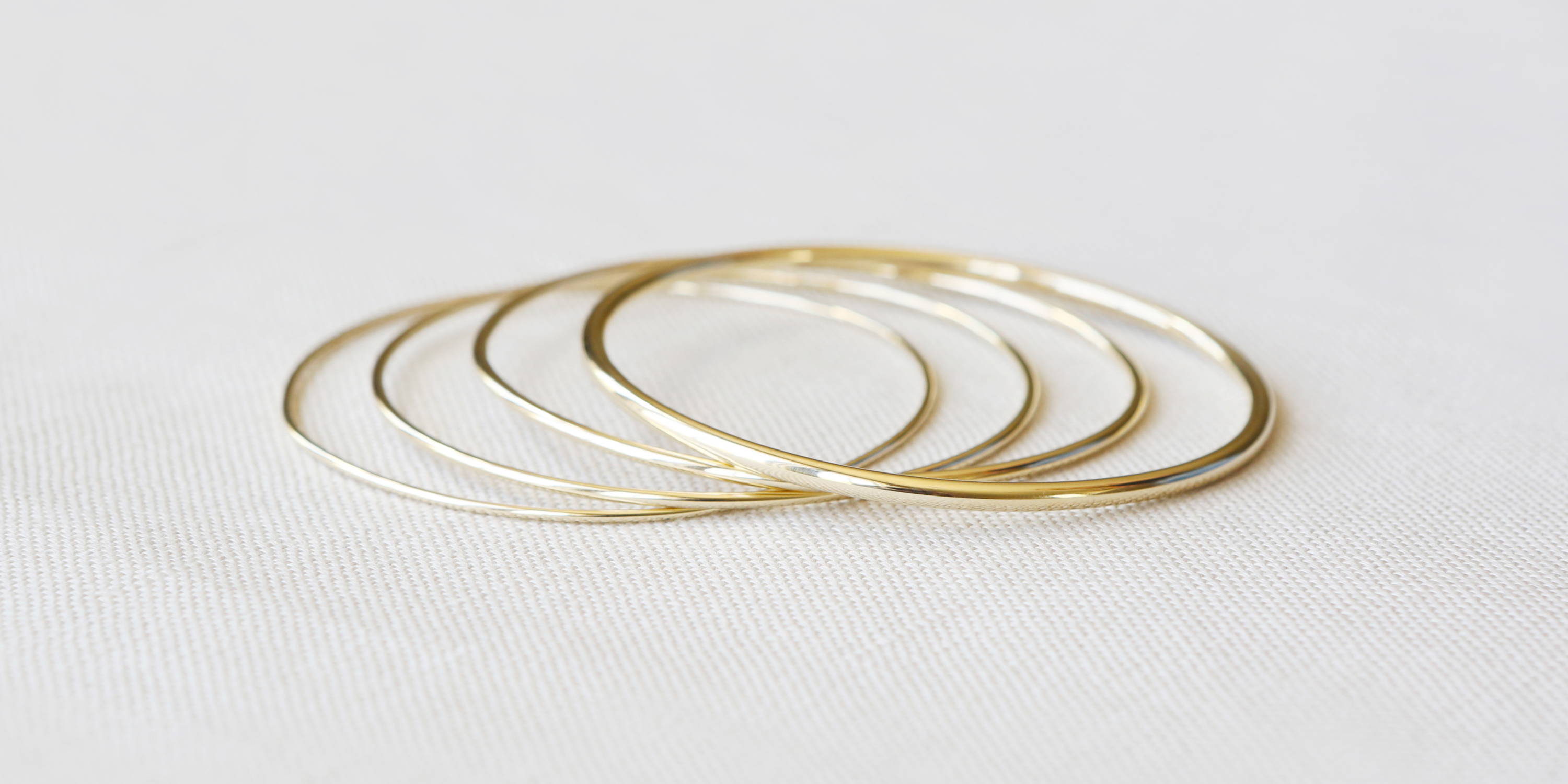 The Flat Wire Collection:
Our next collection is what we refer to as 'flat wire' because the gold wire we use to make these have one flat side and one half round side. This allows for the bangle to have a wider look, and to have a flat surface for engraving.
Our Decade is the first flat wire bangle in the collection. This piece is 2.25mm wide, which we chose because our hand engraver can add block or script letters as small as 2mm on the interior or exterior. This piece is about as wide as the Double Weight but it's different shape gives it a unique feel, 1.5mm in height but 2.25mm in width. This bangle has become a favorite for marking 10 year celebrations or a big decade birthday. Adding hammering and/or engraving really allows this bangle to stand out.
The Milestone: Starts at $1100
The Milestone is the next step up in width. This piece has the same 1.5mm thickness but a wider rounded top at 4mm. The Milestone is a popular choice for mixing in with thinner, round wire bangles to mark a momentous occasion. You can add dimension and shine to this piece with hammering, engrave the inside or outside, or customize with diamonds or birthstones.
*(link to each of those styles with each word)
Our largest bangle in this collection is the Jubilee. The name signifies a special anniversary of an event, especially one celebrating twenty-five or fifty years. The Jubilee has a thin profile and a wide and ultra shiny look at 8mm. It's ideal for a large engraving, beautiful with a hammered or smooth finish, and makes the perfect gift for the biggest anniversaries, birthdays and celebrations. It stacks well with others or can be worn alone as a statement piece.
The most recent addition to this collection is also a customer favorite, the Tribangle. We offer this bangle in a thin style (2mm) and a thick (4mm). The thin tribangle has a similar weight and feel to our heavy weight but with even less bounce. Its three sided design makes a unique 'knife edge' and gives a flat interior for comfort.
The thick tribangle is a solid 14k gold triangle shape, allowing for engraving on the inside or either side of the knife edge. Customers always comment on how impressively solid this piece feels and what a beautiful addition it is to their stack or worn solo.
The Textured Collection
Our family's traditional bangles began with a smooth 14k gold finish. As we watched women grow their stacks and tell their stories, adding texture felt like the perfect way to add dimension and mark special years.
Adding subtle indents on our smooth gold bangles was something done as tradition the year a baby was born. My mom has 4 bangles with varying 'notches' to represent each child's birth year. We started notching on the heavy weight bangle and added notching to the double weight and decade. These little lines can signify any number you'd like, or be placed evenly around the bangle for a textured look and feel.
Want to mark 10 years? 10 notches can be done evenly spaced or closely together. A birthdate can also be remembered in notches like: 4-24-86 would be four (space) 24 (space) 8 (small space) and 6.
We recommend no more than about 40-50 notches per bangle.
First up is the classic twist. We created this bangle using two pieces of hand-twisted gold wire that come together in a beautiful pattern. The twist is similar to our Original gold bangle meaning it has some bounce and bend to it. For that same look without the bounce, try the next step up.
Our heavy weight twist is created from two classic bangles, the wire wound together making it stronger thicker. This has been a customer favorite since it launched and is used to represent so many special occasions. A few of our favorites are two people joining together in marriage, friends gifting one to each other when they live far apart, a mother and daughter both wearing a twist to remind them of how their lives are intertwined, or getting through a tough year of twists and turns.
The hammered bangle collection is up next. We knew from the moment we hammered the first Heavy Weight bangle that this would be a popular style. We have added hammering to a range of bangles, all found here on the Hammered bangle page. Hammering not only adds dimension and shine, but strengthens the gold and gives it a durable finish that hides any wear or imperfections over time.
The Stamped Collection
Our stamped bangles are commonly used to personalize your stack. Whether it's a child's name, your last name, the initial of a lost loved one or a special pet, a stamped initial is a delicate way to remind you of them.
The Stamped Initial: Starts at $400
We love seeing a stack of stamped initial bangles go out to an excited mom who will see her children represented on her wrist.
Our stampings are done by hand in our Nashville's studio.
The Sweetheart: Starts at $400
We also offer a heart stamp on our stamped initial bangle.
The Stamped Initial and The Sweetheart styles are offered on The Original or The Heavy Weight Bangles. If you prefer a more solid feel without any bends, we recommend adding stampings to the heavy weight.
The Stamped Rainbow is a special piece that was inspired by the women in our community who have struggled with infertility. We have heard heartbreaking and inspiring stories of women who king to be mothers and have experienced loss or miscarriage. This piece is for the hope in that journey, and the rainbow babies we are so happy to celebrate after a loss. This bangle is offered on our Heavy Weight.
The Engraved Collection
Engraving is a timeless way to personalize your bangles.
We offer hand engraving done by a local engraver who has been perfecting his craft for 50 years. Adding this service typically means 3-4 weeks for delivery of your piece.
We also offer machine engraving on a few pieces in block or script font and can complete this in our studio, offering a beautiful, consistent look at a smaller cost and shorter timeline.
The Engraved Initial has a similar look to our stamped bangles, but gives you the elegant lines of engraving in a choice of fonts. This 5mm solid gold circle is set on our heavy weight bangle.
The Monogram bangle has a gold oval (11mm wide) which allows for a classic monogram, a date, or a name to be engraved. This makes a beautiful gift for a bride on her wedding day, or to any woman wanting to mark a special date.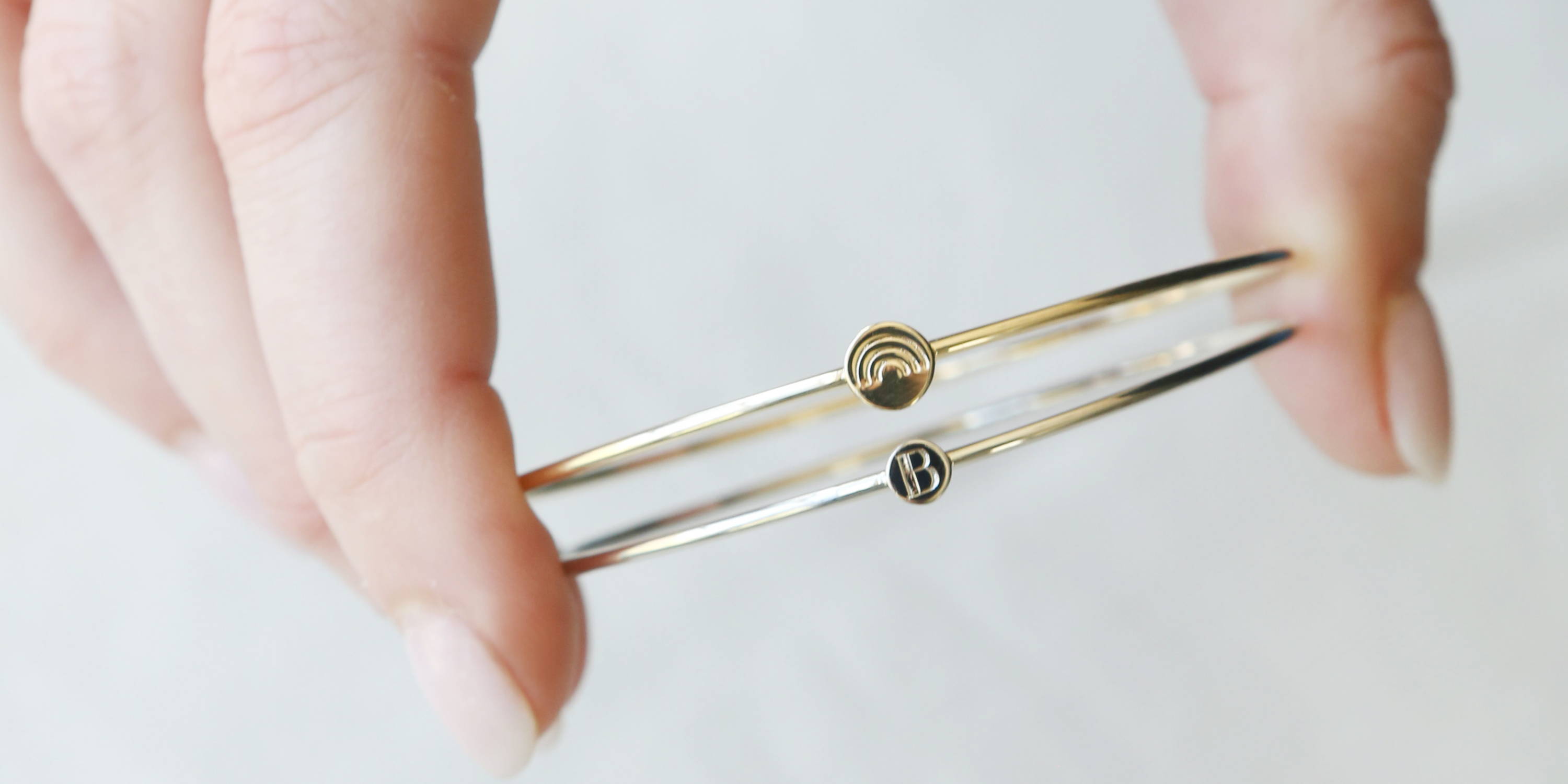 The Stone Collection
We began with solid gold bangles but felt the urge to add some timeless sparkle.
In our first style to feature stones, the Delicate Diamond was created with a secure bezel setting and a 3mm round genuine diamond. This quickly became a customer favorite and we now offer 1-6 diamonds to personalize this piece.
The Birthstone Bangle: Starts at $640
The next step was to add beautifully colored birthstones to the lineup. Each stone is chosen for its color, clarity, and ability to stand up to daily wear. Our birthstones are set securely along the edge of our heavy weight bangles in round or marquise shapes. The stones are impactful but light weight, and will turn lightly on your wrist so they can be seen from every angle.
The round stones are 1/10th carat weight and the marquise birthstones are 1/4th carat weight.
January: Garnet
February: Amethyst
March: Aquamarine
April: Diamond
May: Emerald
June: Alexandrite
July: Ruby
August: Peridot
Serptember: Sapphire
October: Pink Tourmaline
November: Citrine
December: Tanzanite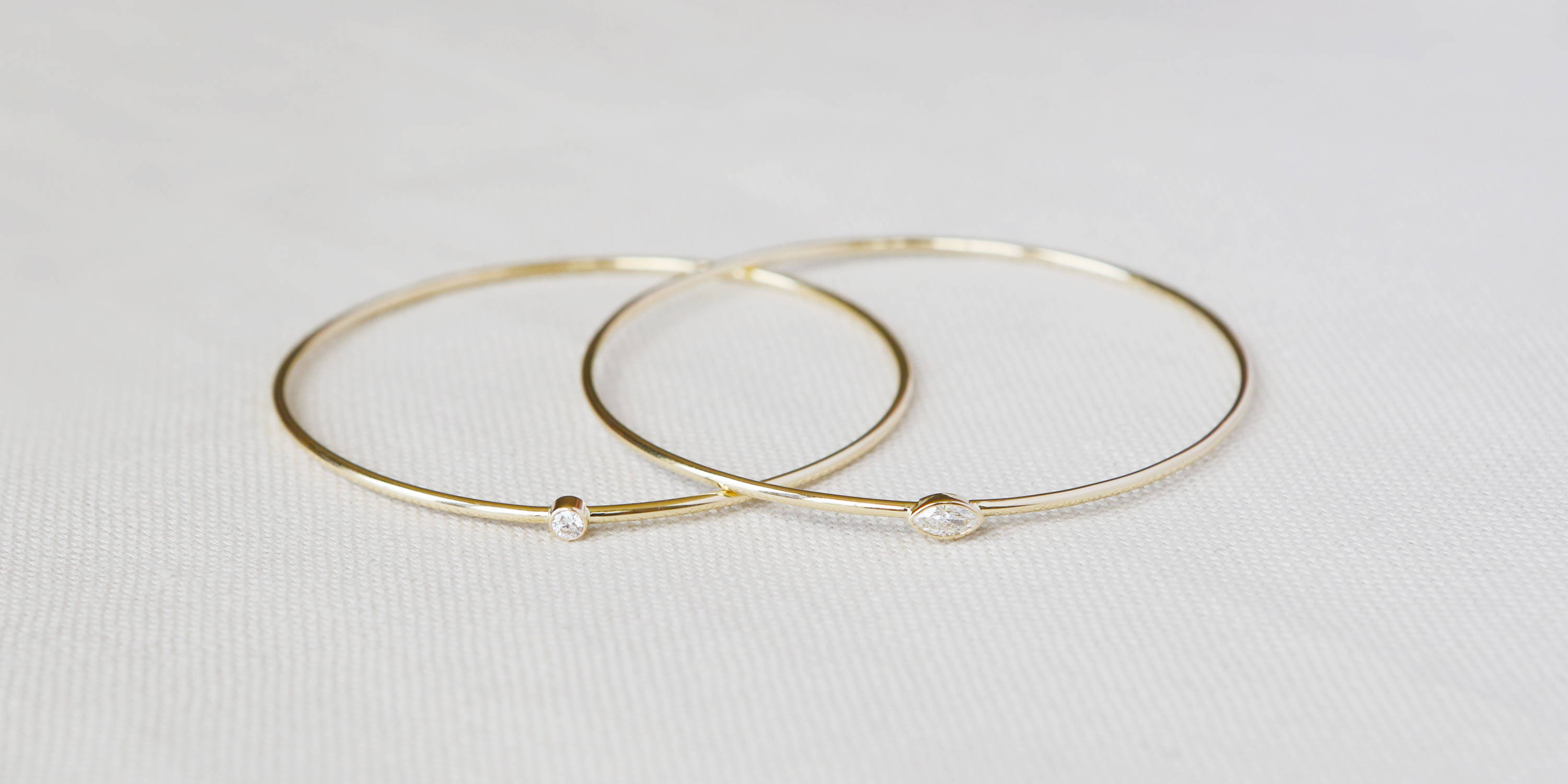 The North Star bangle was created using our heavy weight bangle and a solid gold disc with a beautifully set diamond centered on an engraved star. This piece signifies finding your true north, following a calling, or represents a person who gives you purpose.
The Decade bangle can be set with the same beautiful 3mm diamond as the Delicate Diamond. This Diamond Decade is a sturdier piece with the option to add hammering and/or engraving.
The Diamond Milestone: Starts at $1450
For a different look we also have the Diamond Milestone with a bezel stone set into the half round wire. This piece is stunning with a hand engraved message inside or multiple stones placed around the bangle for a big anniversary.
The Birthstone Milestone: Starts at $1300
To make the milestone even more custom, you can add birthstones in the same setting style in the Birthstone Milestone.
The Ann-iversary: Starts at $3700
This bangle was one I designed for myself for our ten year wedding anniversary. I wanted something with ten diamonds that felt sturdy and solid but had an airy feel in my stack.
This piece can be customized with 7-10 diamonds, is offered in yellow, rose or white gold, and looks beautiful paired with any Yearly Co. piece.
Although our lines of solid 14k gold bangles has grown and the options seem almost endless, we hope to make choosing your first or your next bangle an easy process. Wondering what our best sellers are from each collection? Shop them below!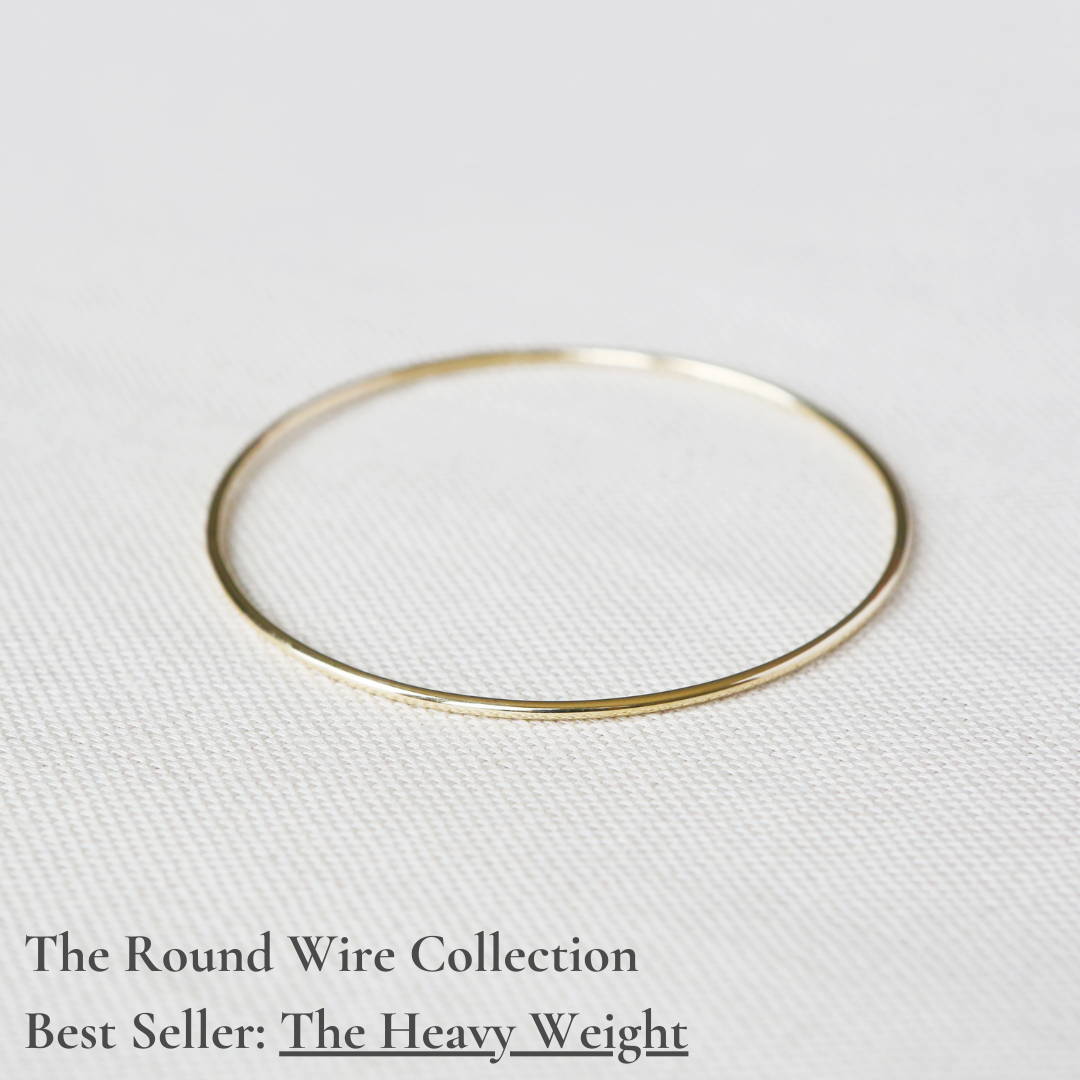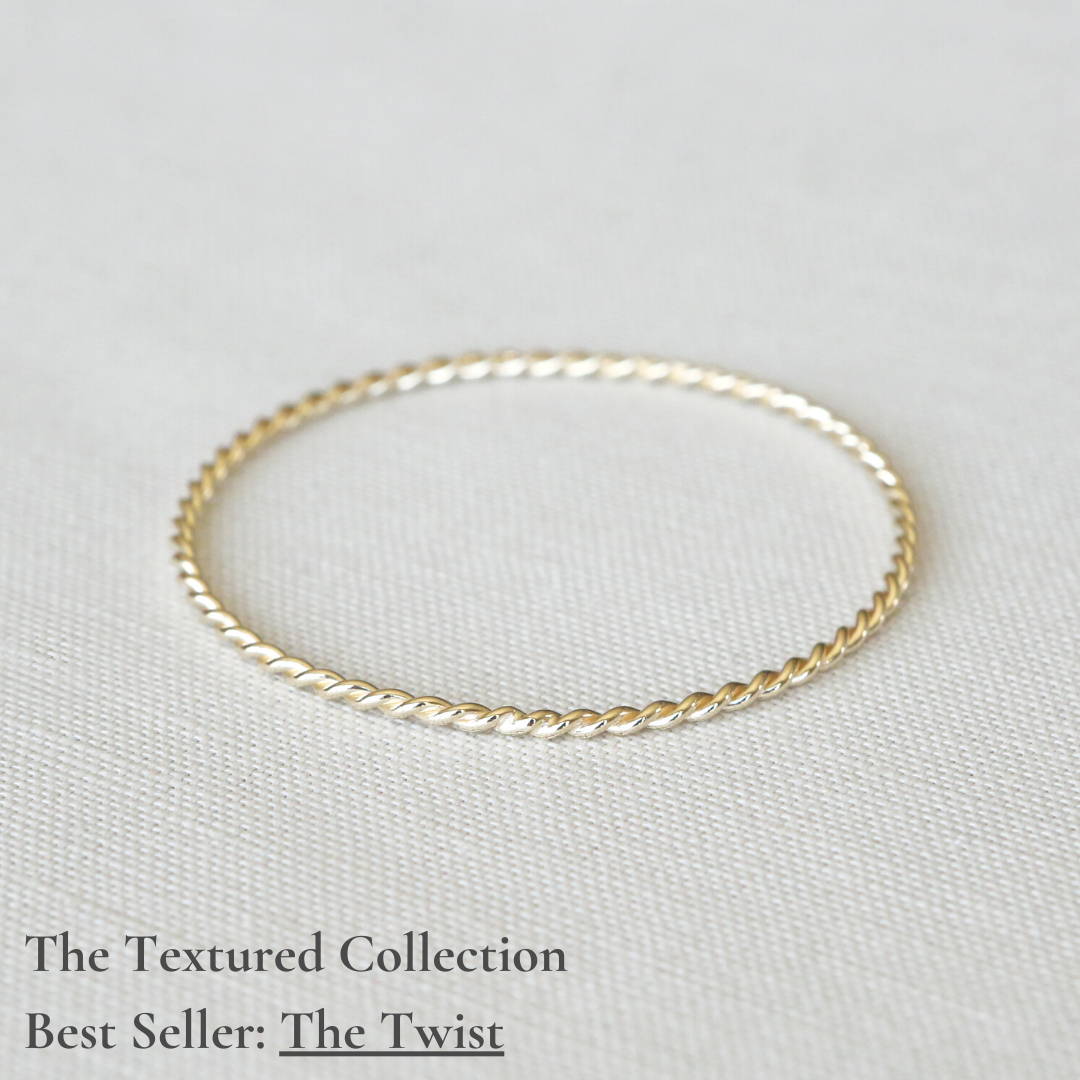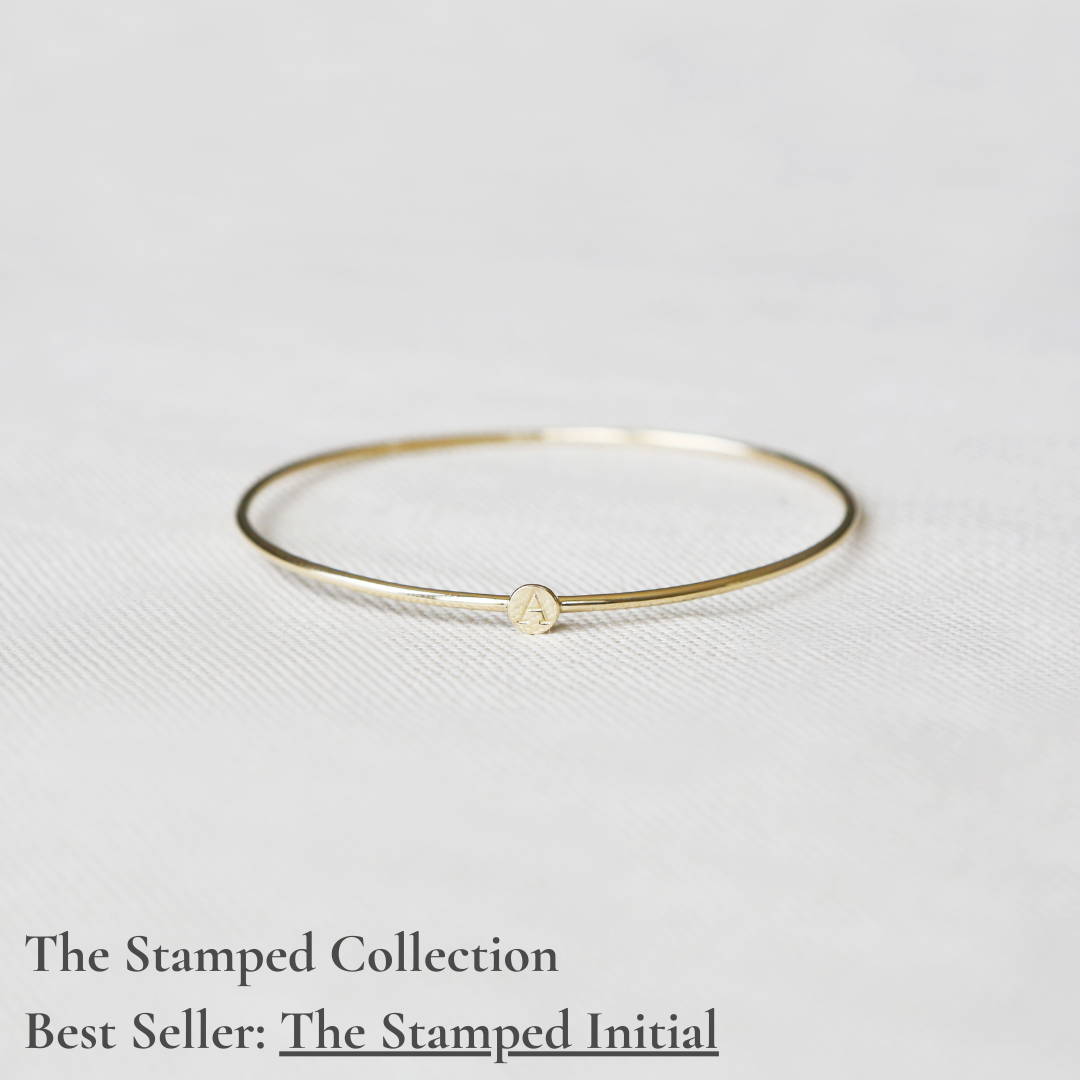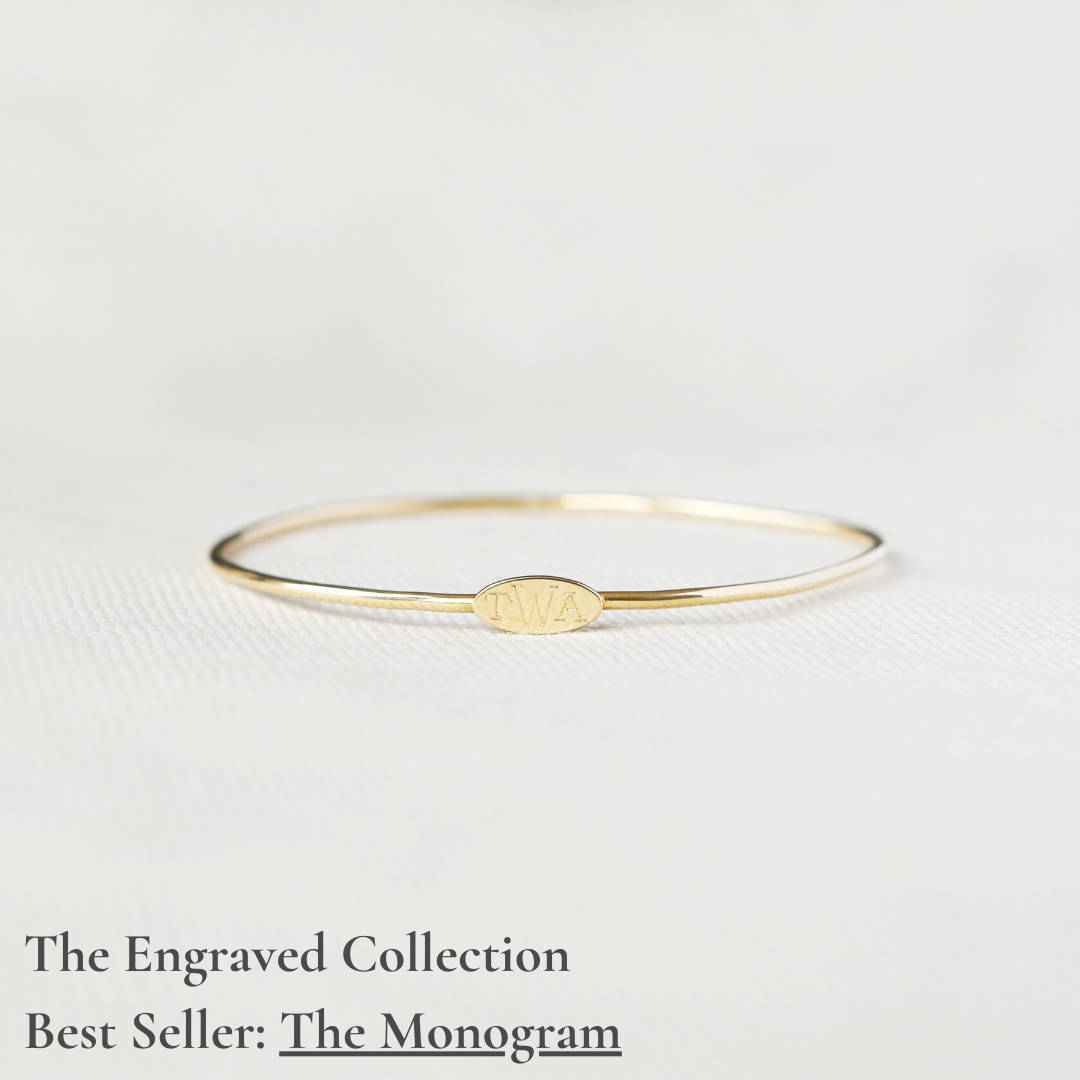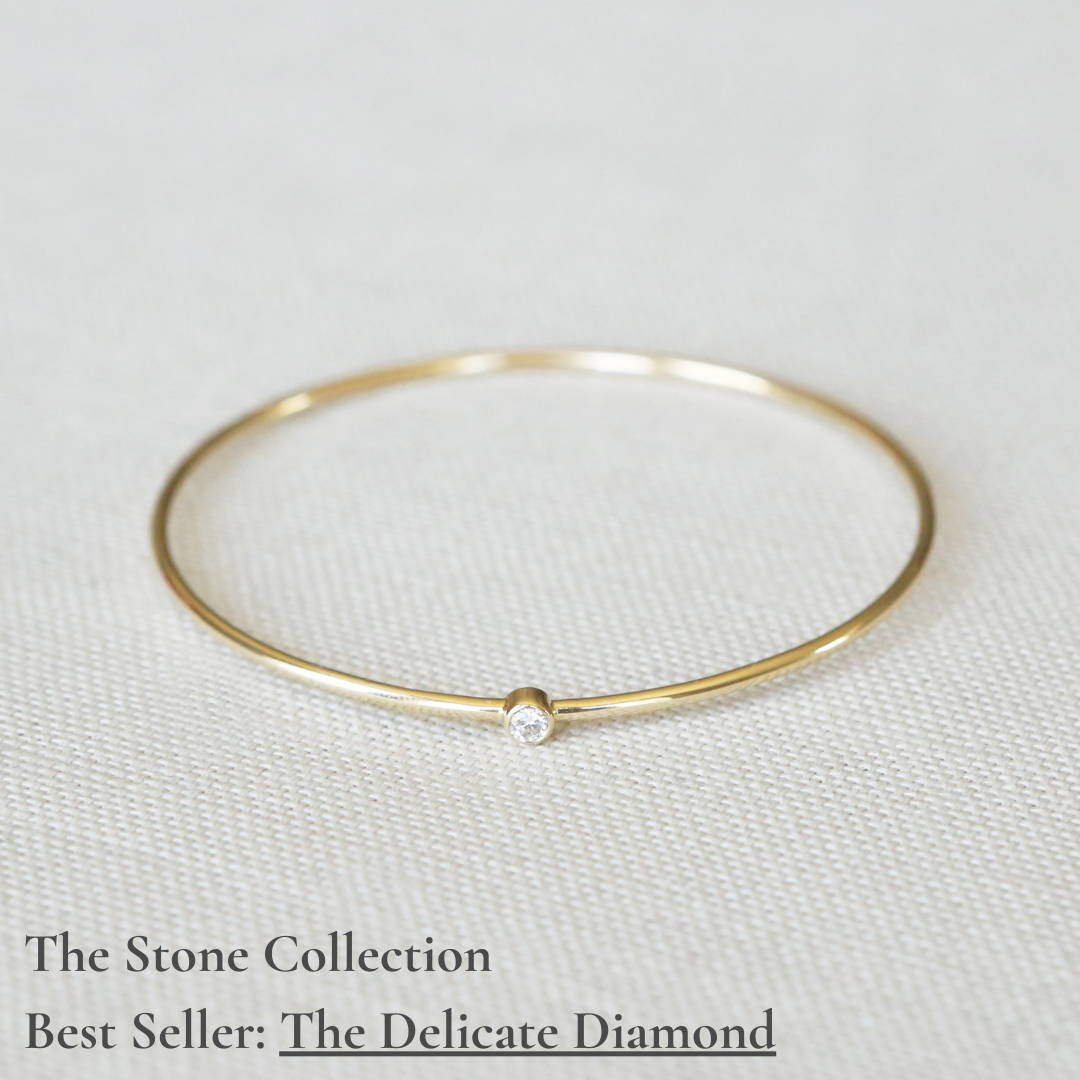 We can assure you that every bangle we make will be solid 14k gold, made to last, and comes with a lifetime of free repairs if anything should break or need a tune up.
Some women know they'll want to stack a classic bangle year after year until they have an armful of 50+ bangles. Some women plan to choose 3-5 varied styles for a unique but smaller stack. And we love to see how our customer mix our bangles with heirloom pieces, watches, casual bracelets and other jewelry brands.
No matter where you are in the process we are here to help! You can start with an occasion, a budget, or build your dream stack wishlist and start from the beginning. Text or call our customer service line at 615-651-0971 or email us at hello@yearlyco.com to answer questions, send stack photos, or help decide between our many styles.
There is nothing we enjoy more than helping you to tell your story with our bangles.