The Yearly Co. Bangle Fit Guide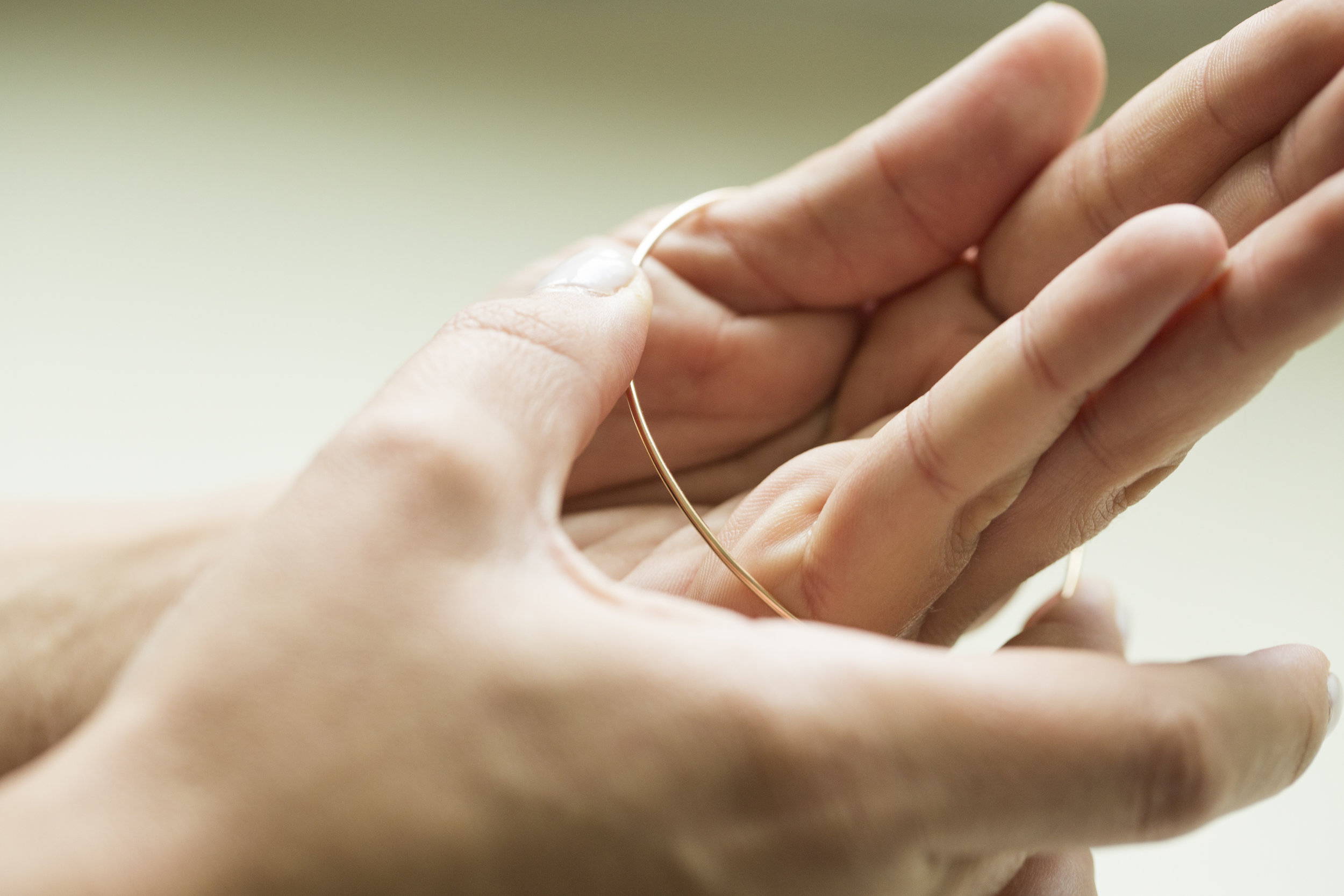 Jewelry was created to adorn the body. Our mission at Yearly Co. is to help you tell your story with beautiful solid gold bangles. But they have to fit just right, just for you.
Our bangles are each created in a custom size because every woman deserves to have her jewelry fit perfectly. Just like rings, when your bangles are sized correctly, they require a bit of wiggling to place on and remove, but when secure they feel as comfortable as if they are a part of you.
Every Yearly Co. bangle is handmade in solid 14k gold, making each piece an heirloom quality investment. Yearly bangles are made to be worn everyday, year after year. They don't need to be removed often (if ever) and should fit just right so that they do not slide off easily. 14k gold does not tarnish and can be worn in the shower, swimming, working out, and anywhere life takes you.
Every woman's hand and wrist size and shape is different and affects just how easily a bangle will slide over her knuckles. And just like ring sizes, each person has their perfect bangle fit. Yearly Co. specializes in this unique and perfect bangle fit to ensure that you love the way your bangles feel and you never have to think twice about wearing them in any setting or activity. Once you find your perfect bangle fit, you can add to your stack year after year.
FINDING MY BANGLE SIZE:
We are often asked, how do I find my bangle size?
There are three different ways we suggest finding your perfect size:
1. The easiest way to find your bangle size ordering the Yearly Company sizing kit. Your sizing kit will arrive within one week complete with a full range of brass bangles to try on. You'll be able to "try before you buy" and experience the lightness and size of a Yearly Co. bangle before investing in your final item or collection. Your kit will include a self addressed envelope to return your set and include your custom sizing info
Brass sizing bangles come in a set marked as: 7″, 7.25″ 7.5″, 7.75″, 8″ or 8.25″
This is especially important for larger orders and initial bangles before we create your final product.
Purchase your sizing kit HERE.
2. The second option is to take a flexible measuring tape and measure around the thickest part of your hand when curved with your thumb tucked into your palm. Pinch all five fingers together and measure around the knuckles (see the illustration below). While this method works for some, we highly recommend ordering the sizing kit to ensure a proper fit and to feel just how snug you want your bangles to slide on and off.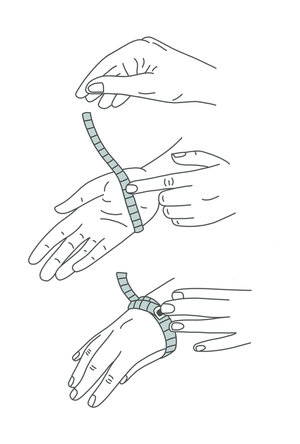 3. Bangles can be sized by their diameter, the total length (in inches or millimeters) running across the center of the bangle. Because of this, you can use bangles that you already own to estimate your Yearly Co size.
Using a bangle that fits you, measure the inside diameter and then compare your findings to the chart listed below. Locate the measurement you found in column 2 to find the complementary size listed in column 1 to find your Yearly Co. bangle fit.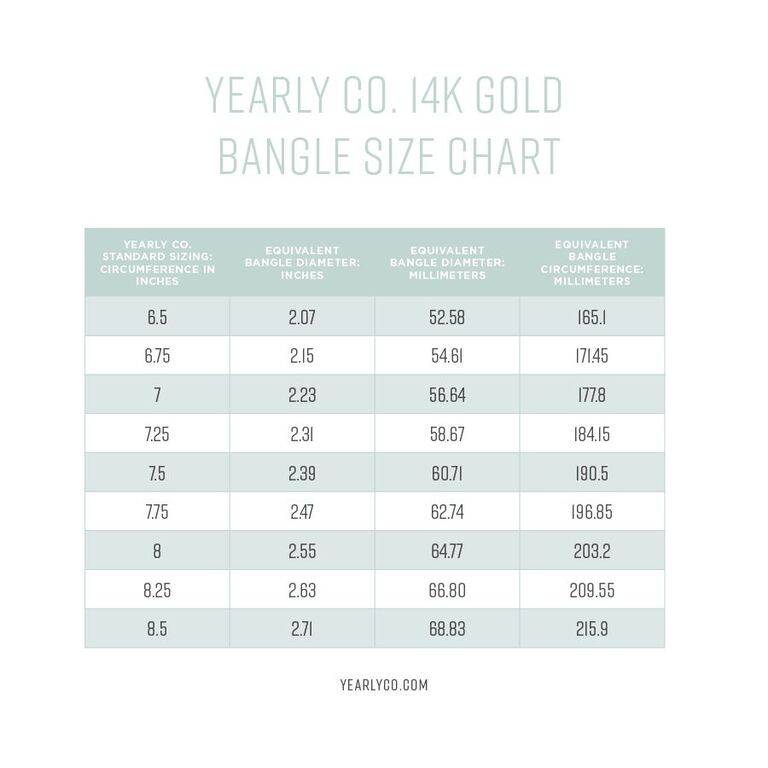 HOW SHOULD MY BANGLE FIT?
Bracelets should fit snugly over your wrist and not slide off easily. If you intend to wear your pieces all day/everyday, you will want them to be difficult to put on, so that you have to push them down over your knuckles with some force. You should be able to remove your bangles, but they should not slide off easily.
However, we understand that some people like to remove jewelry or wear it only on occasion. Because of this, we encourage clients to consider how frequently they will be wearing their pieces when determining their size. If your bangles will be worn all day every day, we recommend a fit that requires some force to get over the knuckles and sits comfortably on the wrist without the risk of sliding off. If you'll be removing your bangles daily, we suggest a fit that is a bit looser over the knuckles allowing for an easier removal process.
While, the average size Yearly bangle falls between a 7.5" and 8", we have had women order as small as a 6.5" and as large as a 9.5" — it is all about personal comfort.
If you have specific questions about bangle fit, email us at: hello@yearlyco.com