FAQ: Traveling with my fine jewelry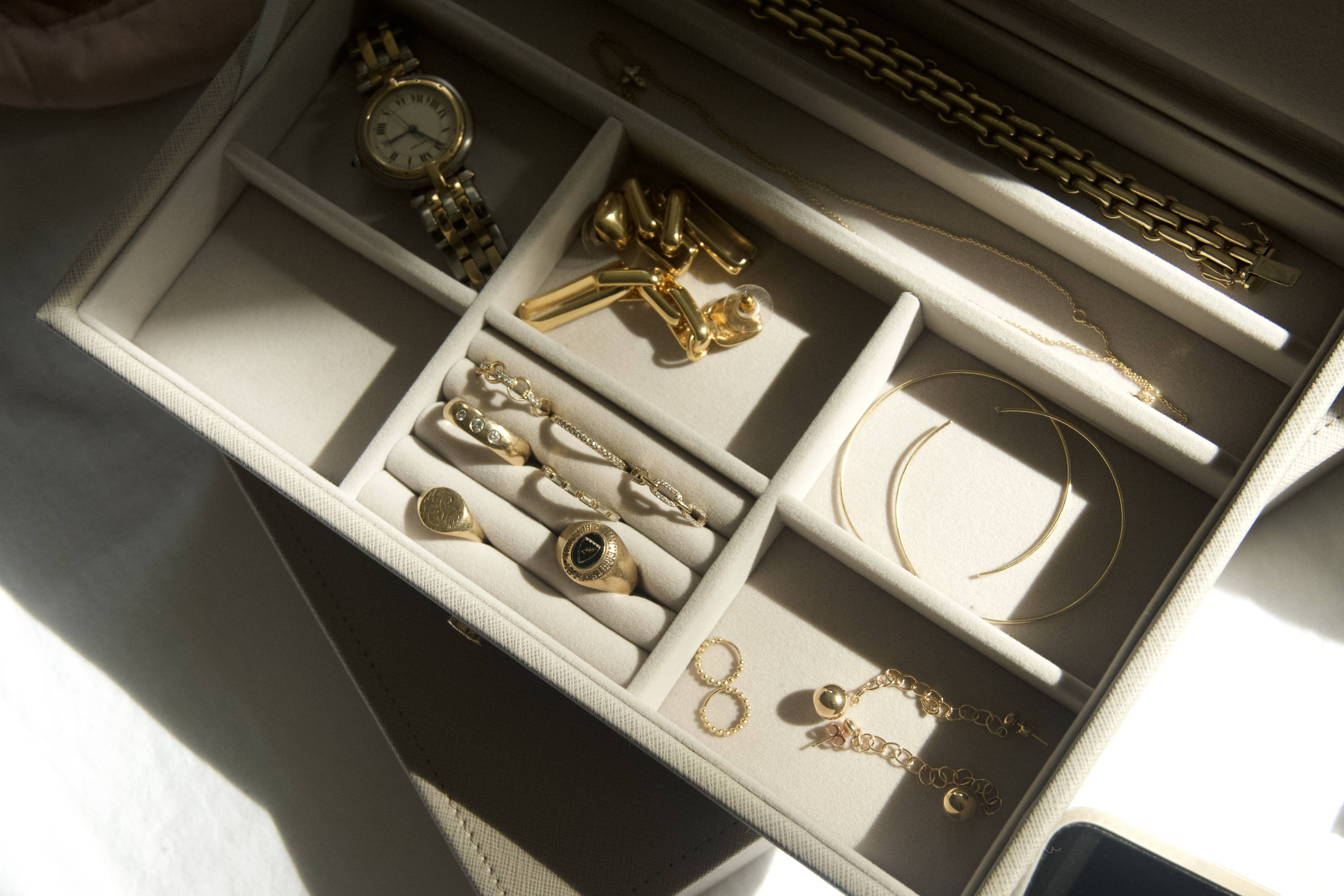 Travel is back and we could not be more excited! While you may not always be traveling in first class, your jewelry should be. Read below for our travel storage solutions and how to navigate TSA with Yearly jewelry on.
Storage:
Properly storing and protecting your jewelry while traveling will keep your Yearly Co. pieces looking sparkly and lasting for years to come! My favorite storage solution for at-home jewelry care are the stacker trays sold at the Container Store. There are many different sizes, shapes, and colors however, this small zipper has become my go-to when traveling. It is the perfect size to fit in a carry-on or a backpack (remember not to check your fine jewelry when traveling!) and it has multiple compartments so you can separate pieces by style type.
When traveling with necklaces we recommend the oldest (and least glamorous) trick in the book to keep them from tangling. Use mini zippered plastic bags, and secure the clasp by holding it just outside the bag and zipping across the chain tightly. This ensures your necklace chain won't tangle and will be kept separate from other chains and earring studs.
While you can wear your Yearly Co. bangles 24/7, if you prefer to remove them at night or when traveling, we recommend keeping them safe in a jewelry box or travel case. This round leather one from Cuyana is perfect for tucking inside a purse or carry-on and it can be customized with lettering.
Traveling and TSA:
All of our pieces are made of 14k solid gold. 14k gold is made up of 14/24 parts gold and 10/24 parts other metals. Once you are wearing a number of bangles, the other metals like nickel and copper will set off metal detectors. This is a normal part of traveling while wearing jewelry, and you can choose a few options to make your trip through security a breeze.
1. If an airport has the older metal detectors or you are TSA Pre-approved and need to go through them:
Either remove your bangles and place them in a secure, zippered compartment or pouch in your carry-on before putting it through the machines.
OR
Let TSA know that your bracelets will set off the detectors, and that you prefer to have them use the wand and not to remove them (this is what my mom does as she never removes her 43 bangles, and travels often!).
2. The newer machines that require you to put your hands over your head do not have a problem with metals and jewelry and this should not be an issue.
Don't forget all Yearly Co. jewelry is ideal for traveling because it's solid 14k and custom fit to you! The safest place to keep your jewelry is on your body. But if you want to pack some extra fun earrings or swap out a necklace, these travel storage tips should help make your vacation accessory packing easy.